Lu L.
El Cerrito, CA
1/21/2013
My child has been attending Berkeley Russian School (BRS) for six years, starting at age 3. The current management of the school is fantastic. My child takes chess, music and Russian and loves all three! The kid looks forward to going to school each week and spends the ride home singing all the songs he learned in music. Many of the children are buddies at school, chatting and playing in Russian between classes. The teachers make the subjects exciting and encourage the students to learn at their own speed.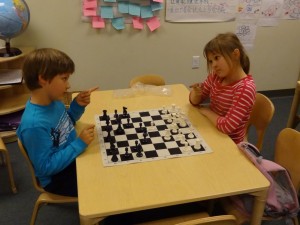 Not every child is fluent in Russian, but the kids are grouped at their language and age levels. My child is bilingual and biliterate (yep, the kid can read and write in two languages), thanks to BRS!
I wanted to add a note about the change in leadership at BRS. I loved the old director and have incredible respect for her. However, I also have immense respect for the new director. Under her leadership the school a vibrant place where academics are paired with a sense of community.
Paul I.
Berkeley, CA
2/10/2013
Berkeley Russian School is friendly atmosphere for directed learning of the Russian language for kids.  We have been bringing our little one there on Sundays for almost a year now, and she loves it. We see it as good preparation for kindergarten (which will be next fall for us), since we go only one day a week, but its amazing how much new information she picks up. The teachers are great and treat the kids in an age appropriate manner (the littlest ones all hold hands when walking from class to class, for example).
Everybody gets homework, but it's not overwhelming, since there's a week to complete it – it's nearly the first thing she wants to do when she gets home from school on Sundays.
We are both native speakers, but there are a fair number of kids with only one Russian speaking parent, and BRS succeeds in helping them develop their Russian!  An adult beginner Russian class started up just this year, and there is now again a "break" room for parents and grandparents to sit and chat or have coffee while the kids are in class.
This adult socializing part of BRS is optional – which is something I personally enjoy since I often take advantage of the time to work, or read a book at a nearby bakery cafe (The Bread Workshop).
Irina Z.
It's very important for me that my son can read and write in Russian and we really appreciate the Russian language and literature classes at Berkeley Russian School.
Vladislav C.
When our daughter was little she spoke only Russian at home but when she started going to school she quickly switched to English. It happened so fast. So it is really important for her to come to BRS and speak Russian with other kids.
Alexei and Natalie S.
We think that everything that our son learns here helps him in his regular school, and his classmates at school benefit too. Our son has a lot of confidence because of his attendance at Berkeley Russian School and he's more culturally aware, more multi-dimensional. His school, near University Village is full of kids from all over the world. Because he has a stronger understanding of his own cultural traditions, he has a greater appreciation of their cultures.
Nadia T.
Our daughter loves coming to Berkeley Russian School, and she's made a lot of Russian friends. We think this is really important for her, and for her self confidence too. She knows that school is on Wednesdays and Saturdays and she counts the days.
Larisa K.
So many immigrant children who attend schools in America lose their language completely and I think it's very important for children to maintain a sense of their culture and identity, including their language.
Yuri Slezkine,
Director Institute of Slavic, East European and Eurasian Studies
The Berkeley Russian School plays an important social role for new immigrant families to the East Bay as one of the only East Bay Russian institutions that is not religiously affiliated.
Tatyana Y.
We have children in the school who really love acting, even little ones get really into their role. Their eyes just light up, and they just can't wait to do it. It's so great to see that excitement and potential.
Eugenia Malinnikova & Yurii Lyubarskii
University of California at Berkeley
This year our academic life brought us to UC Berkeley. Planning our move we were very pleased to find information about Berkeley Russian School on the internet. We speak Russian at home but our daughters, which are now 6 and 9 years old, have never lived in Russia. Thus it is a challenge to keep the development of their Russian language on the age appropriate level. In Berkeley we were inspired by examples of former BRS students, teens that were born in the States and speak perfect Russian; now they come to the school to help teachers with younger children.
Our girls enjoyed the school from the very first day; the youngest is in love with music and dance practice, and the eldest is excited about math, art, and chess lessons. Both of them say that Russian language classes are the high point of their day in BRS. At home they read Russian books, memorize poems, do math assignments, and show us their new dances.
Now Russian language for our girls became not only their "home language" but the language of the great community of teachers, children, and parents of the school. We are grateful to the dedicated and highly professional stuff of BRS and its director Yelena Glikman for creating this remarkable environment for Russian speaking children.
Vera Serganova
Professor of Mathematics
University of California at Berkeley
My daughter Marina attended Berkeley Russian School from the age of five. Marina was born in the US and visited Russia for the first time when she was nine. Even still, her Russian is so fluent that even in Moscow nobody could guess that she grew up in America! She reads Russian books, watches Russian movies, and what is the most surprising – she can spell almost without mistakes. I don't think that we could achieve all this without Berkeley Russian school. Marina is happy and successful in American high school, and in my opinion, her Russian background strengthens both her academic and social skills. While it requires some effort to raise a child bilingual, it is well worth it. Berkeley Russian School provides an excellent atmosphere for a bilingual child, and it makes a child proud of Russian roots. The teachers at Berkeley Russian School do an excellent job. I am very grateful to Marina's Russian teacher Irina Valioulina who managed to make even Russian grammar seem interesting. I admire the director Yelena Glikman for her dedication and constant effort.